NATURAL FREEZE-DRIED RAW DOG FOOD

100% satisfied customers.
VAT included. Shipping only to EU.
VAT included. Shipping only to EU.
Buy 2 packs - get probiotics for free.


Food is powerful — it can heal or destroy the body. As a result, dogs on kibble don't get essential nutrients to stay healthy, so they suffer from allergies and even lethal illnesses. But the damage can be prevented and even reversed if you swap kibble for real food.

HUMAN QUALITY INGREDIENTS
We give our furry friends what we'd eat ourselves — only the best — fresh, tasty & balanced food.

Proteins, bones & vegetables in ZENOO food will maintain your dog in its best shape: from tail to paws.
We are what we eat — only on a fresh and balanced diet, our pets can thrive.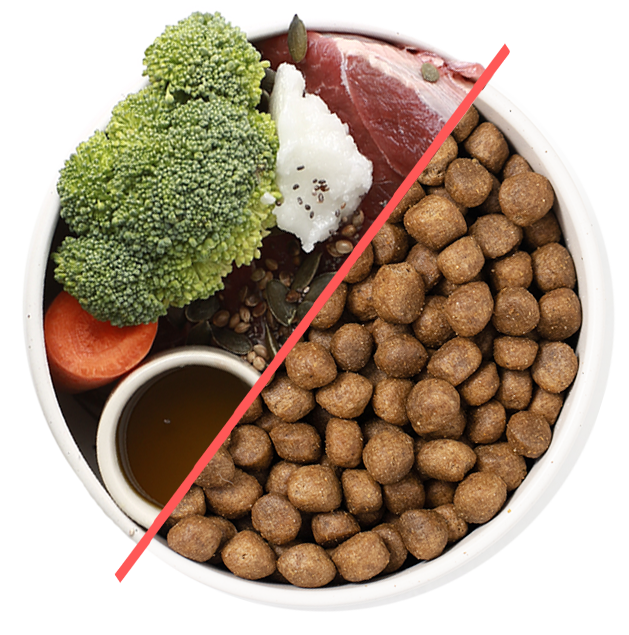 Kibble is filled with preservatives, food dyes, and other ingredients you shouldn't give to someone you love.

Kibble is heated so many times that it loses most nutritional value. It's basically fake food.

CAUSES ILLNESS AND ALLERGIES
Kibble diet is known to cause cancer, tumors, allergies, and brain tumors.
1 KG OF FREEZE-DRIED RAW = 4 KG OF FRESH RAW FOOD

It's the food of the future. We use the same high-end technology for our food as NASA, so it is light-weight and convenient and fully nutritional. 1 kg of ZENOO will last you 4 times longer than feeding with raw fresh food.
HIGH QUALITY RAW INGREDIENTS
We use only carefully selected top-quality human-grade 100% natural ingredients for every dog's complete nutrition. Grown and produced in EU.
We crafted our recipes with vets and certified nutritionists, so our food contains all the necessary proteins, fats, vitamins & antioxidants from RAW ingredients.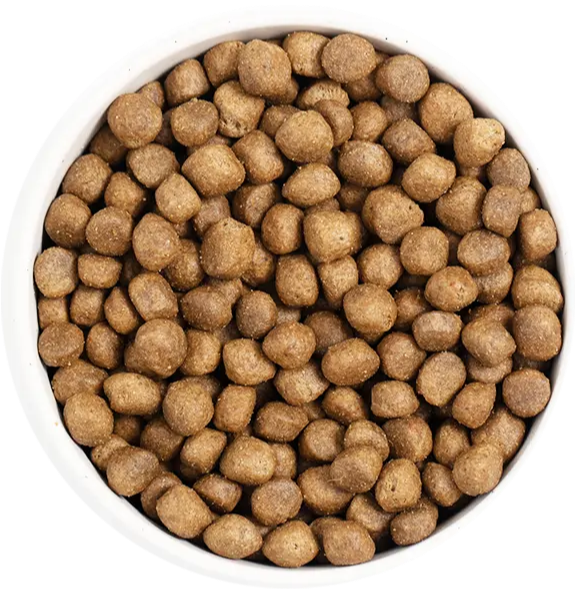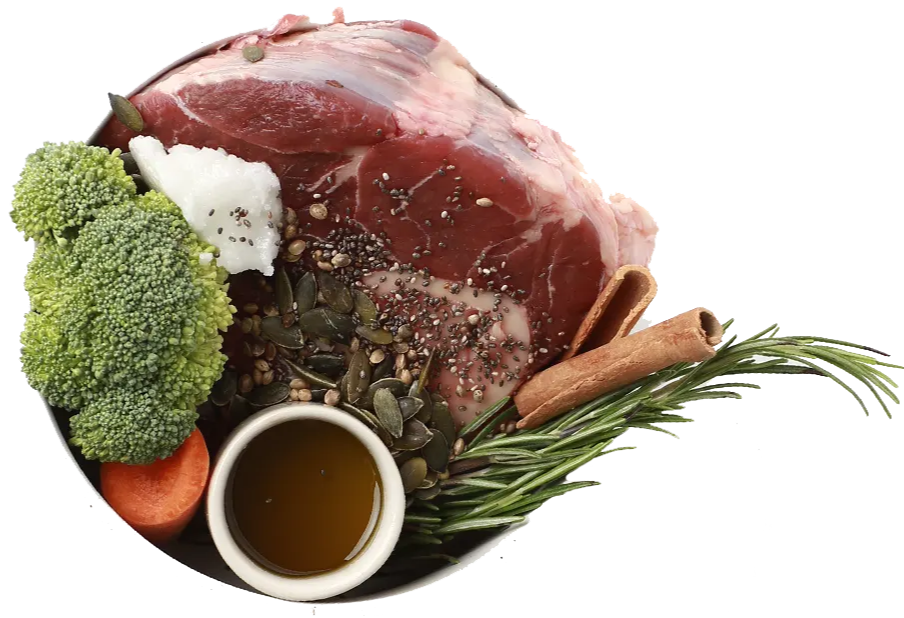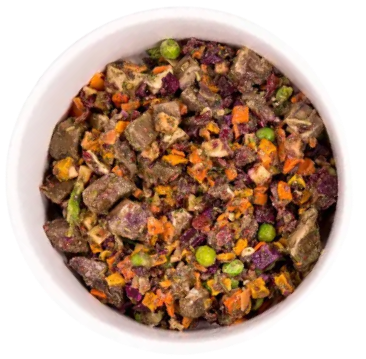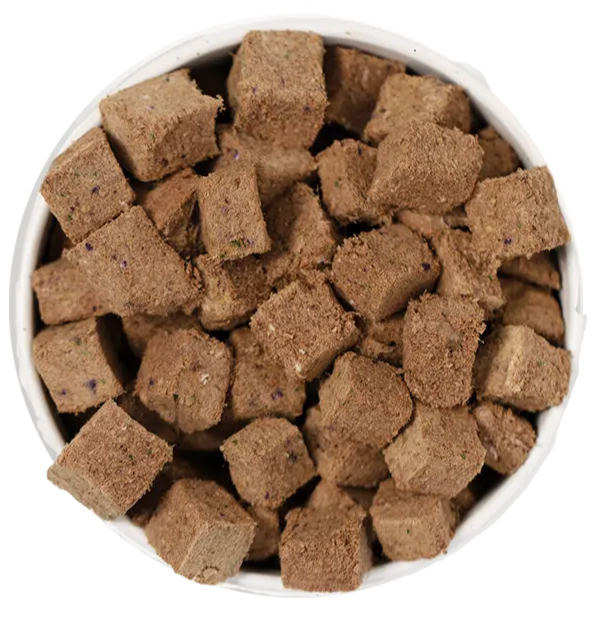 Full of preservatives, sugars, fillers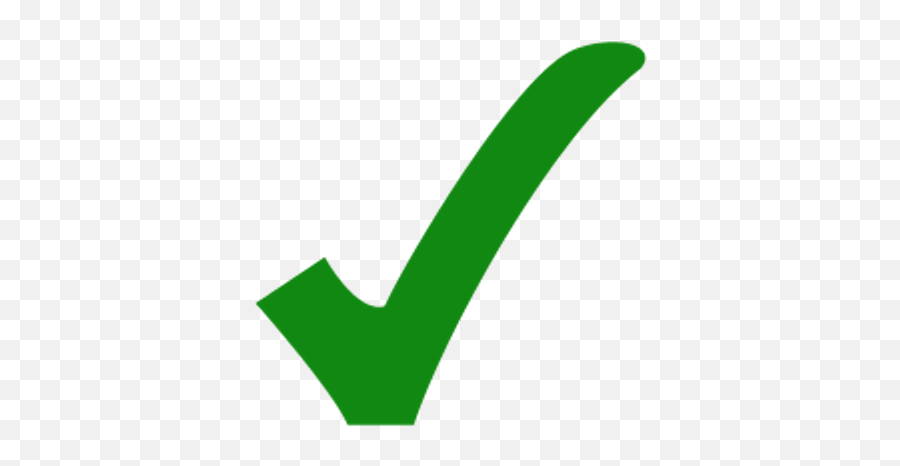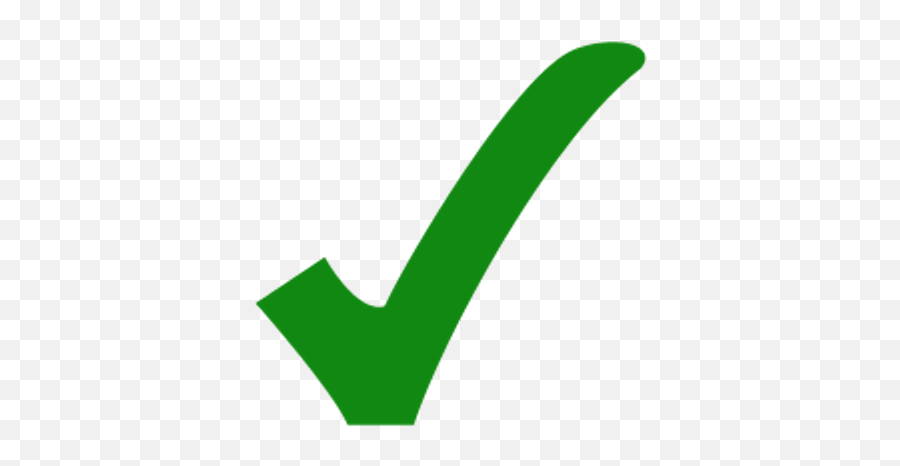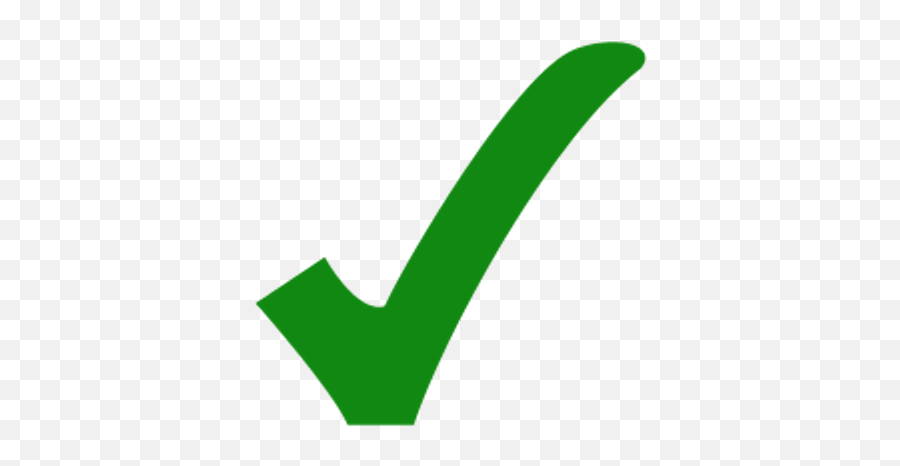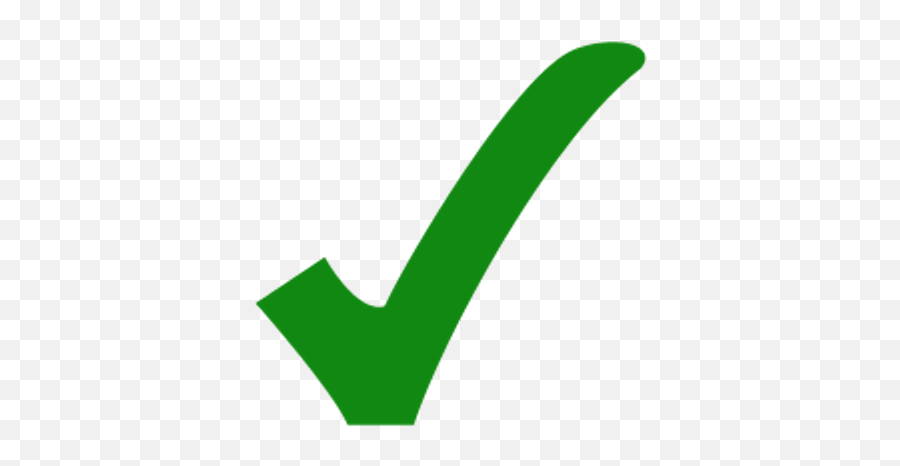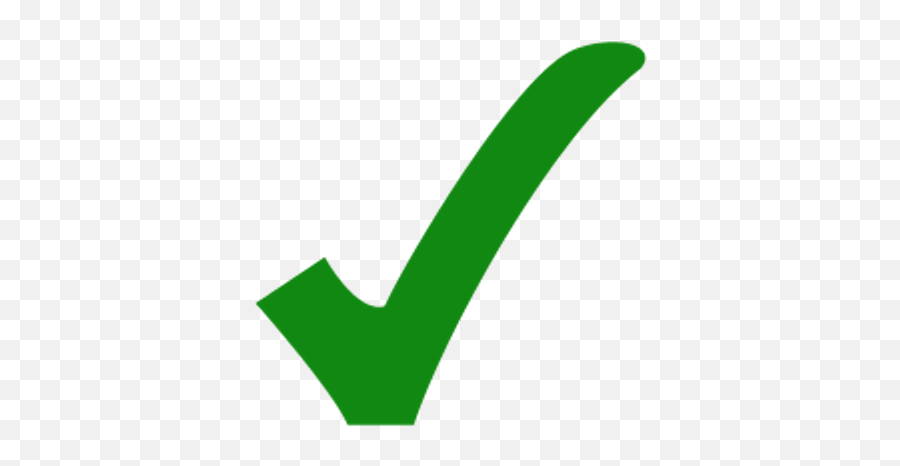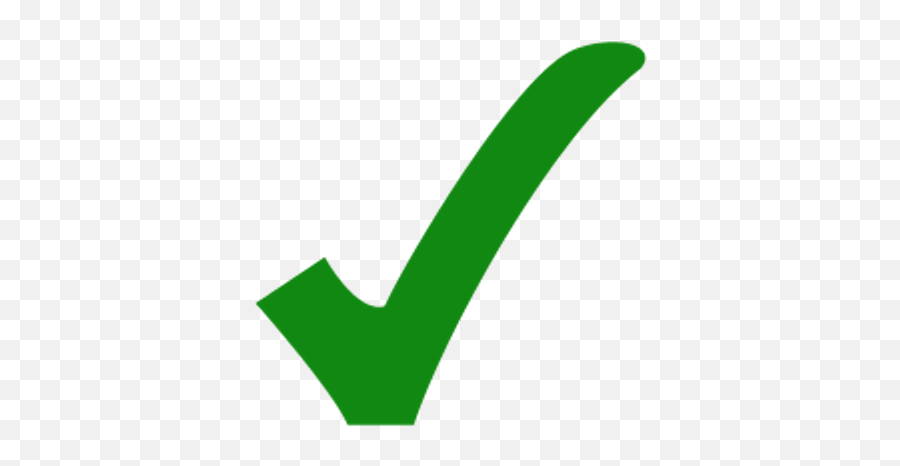 Human-grade beef meat (56%), beef lungs, ground bones, beef heart, beef liver, carrots, dark cabbage, spinach, hemp oil, turmeric powder.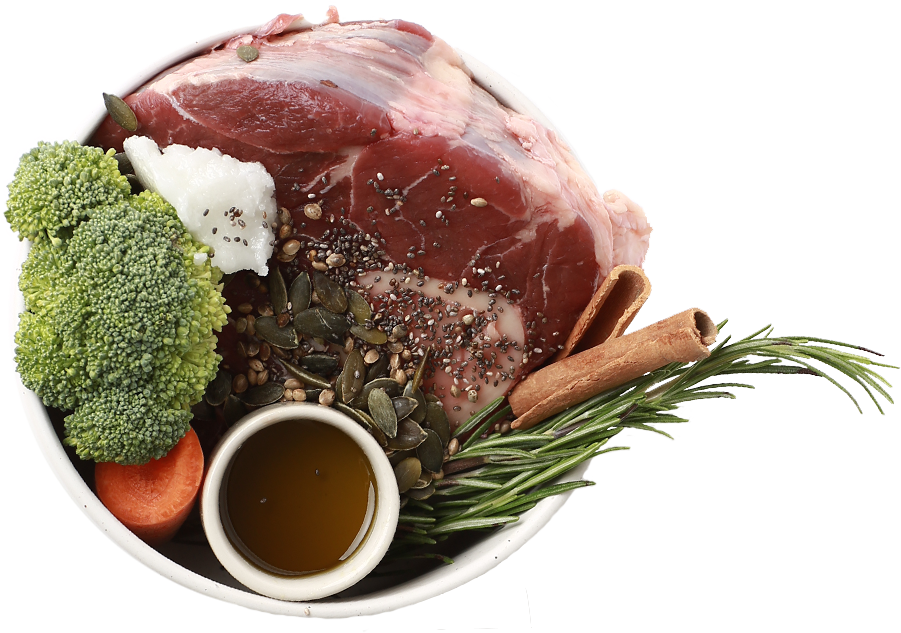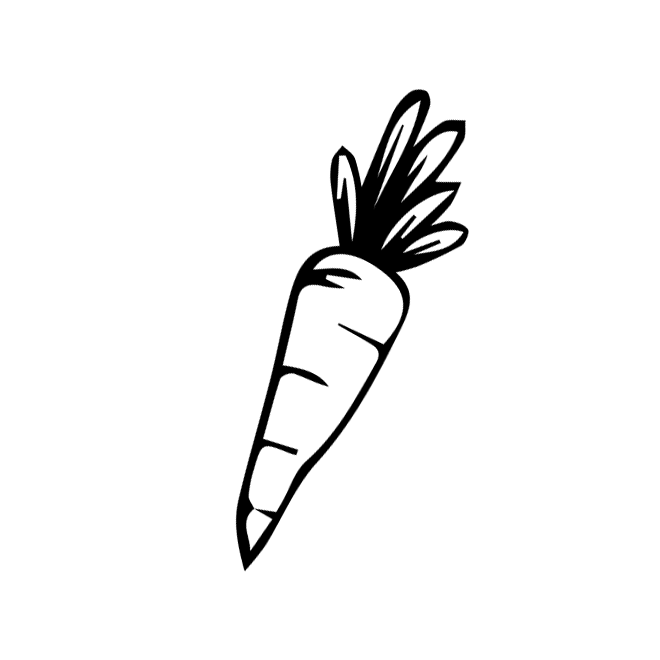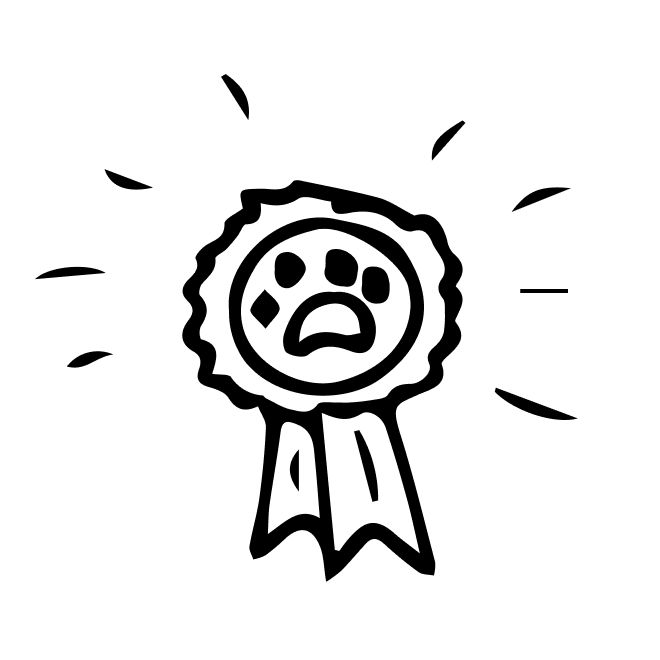 TAILORED FOR YOUR
DOG'S NEEDS

Put the calculator away! Our nutritionists will prepare the ideal feeding chart considering your dog's weight and activity level.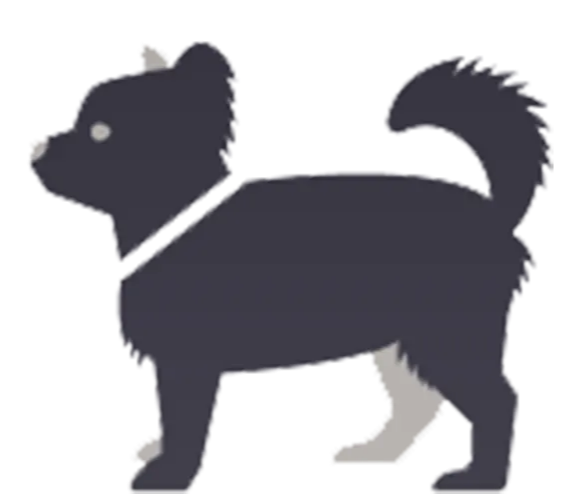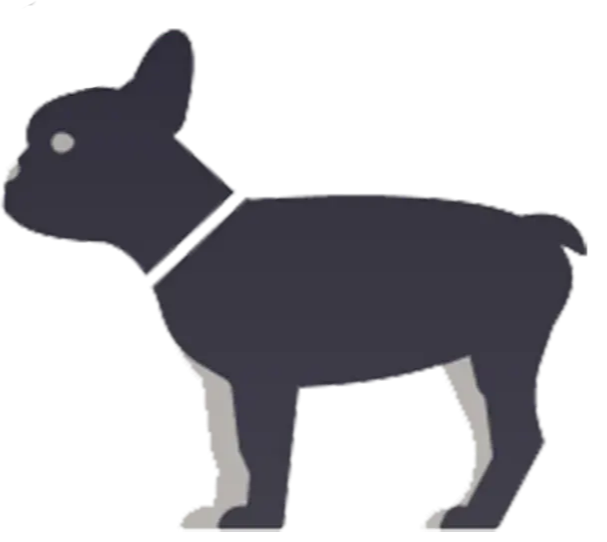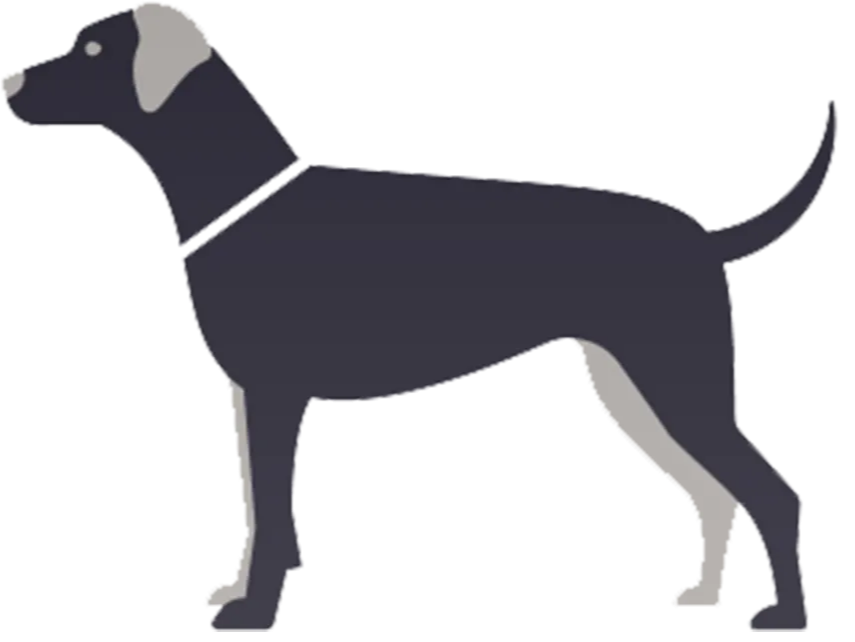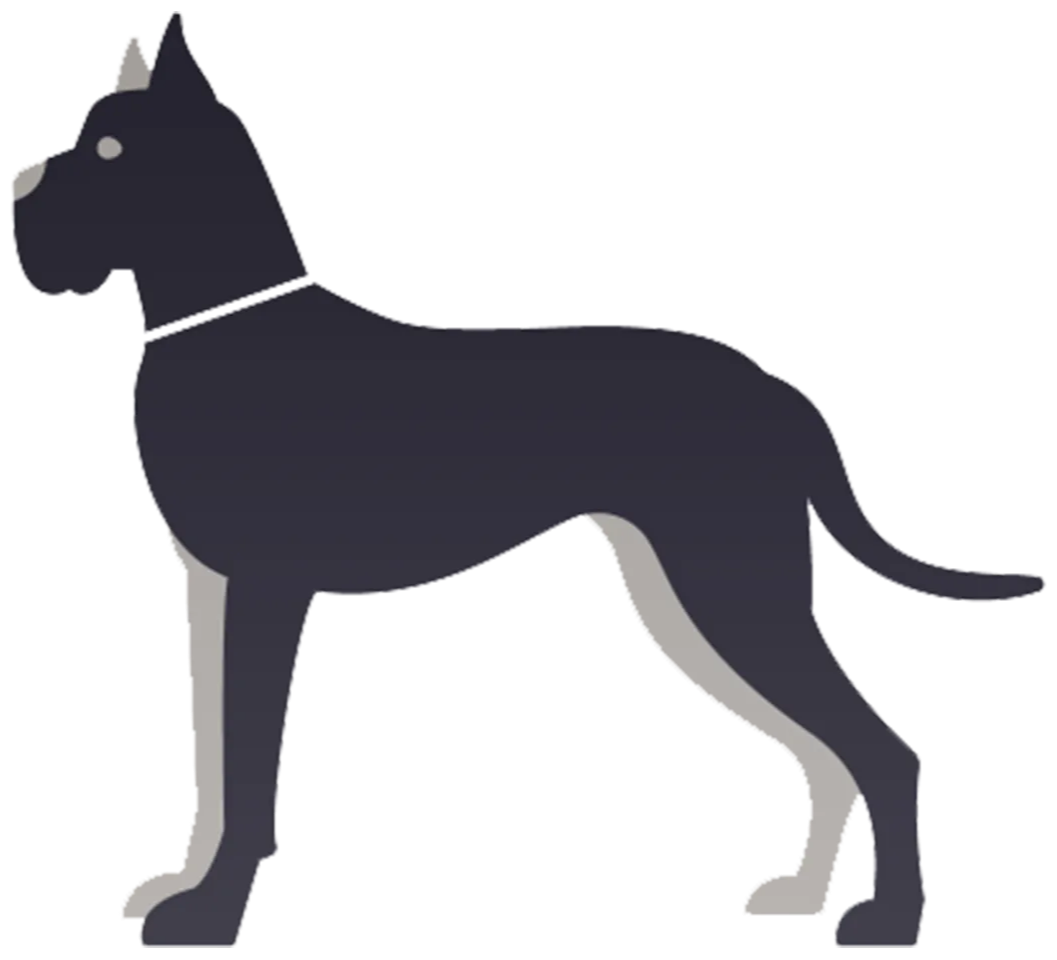 TAILORED FOR YOUR DOG'S NEEDS
Put the calculator away! Our nutritionists will prepare the ideal feeding chart considering your dog's weight, and activity level.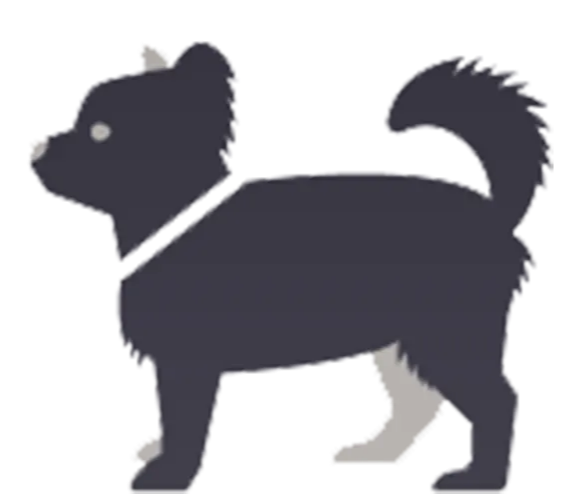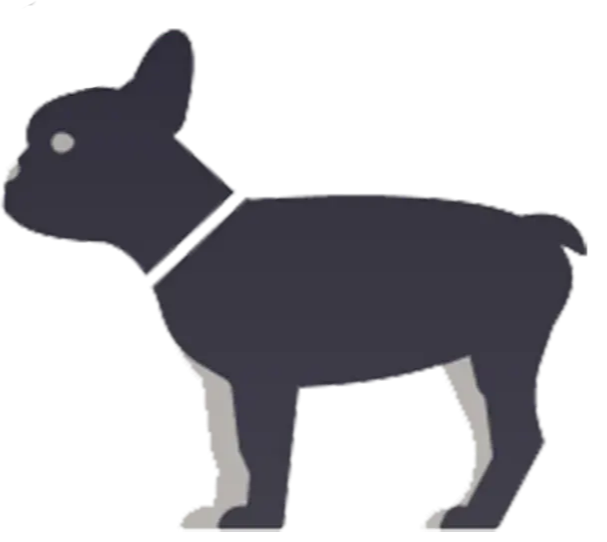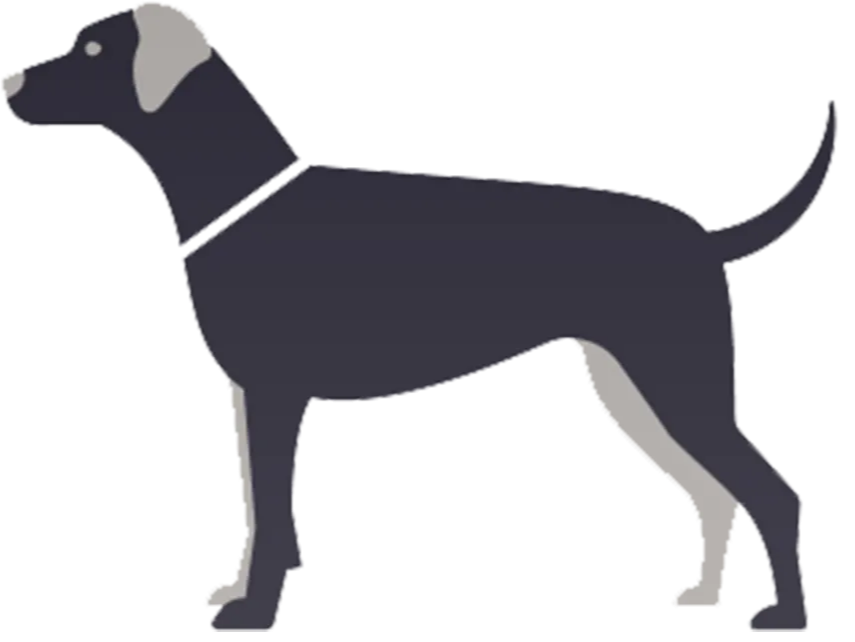 Feeding amount/day
for an adult dog
1 kg will last an
adult dog
Feeding amount/day
for a puppy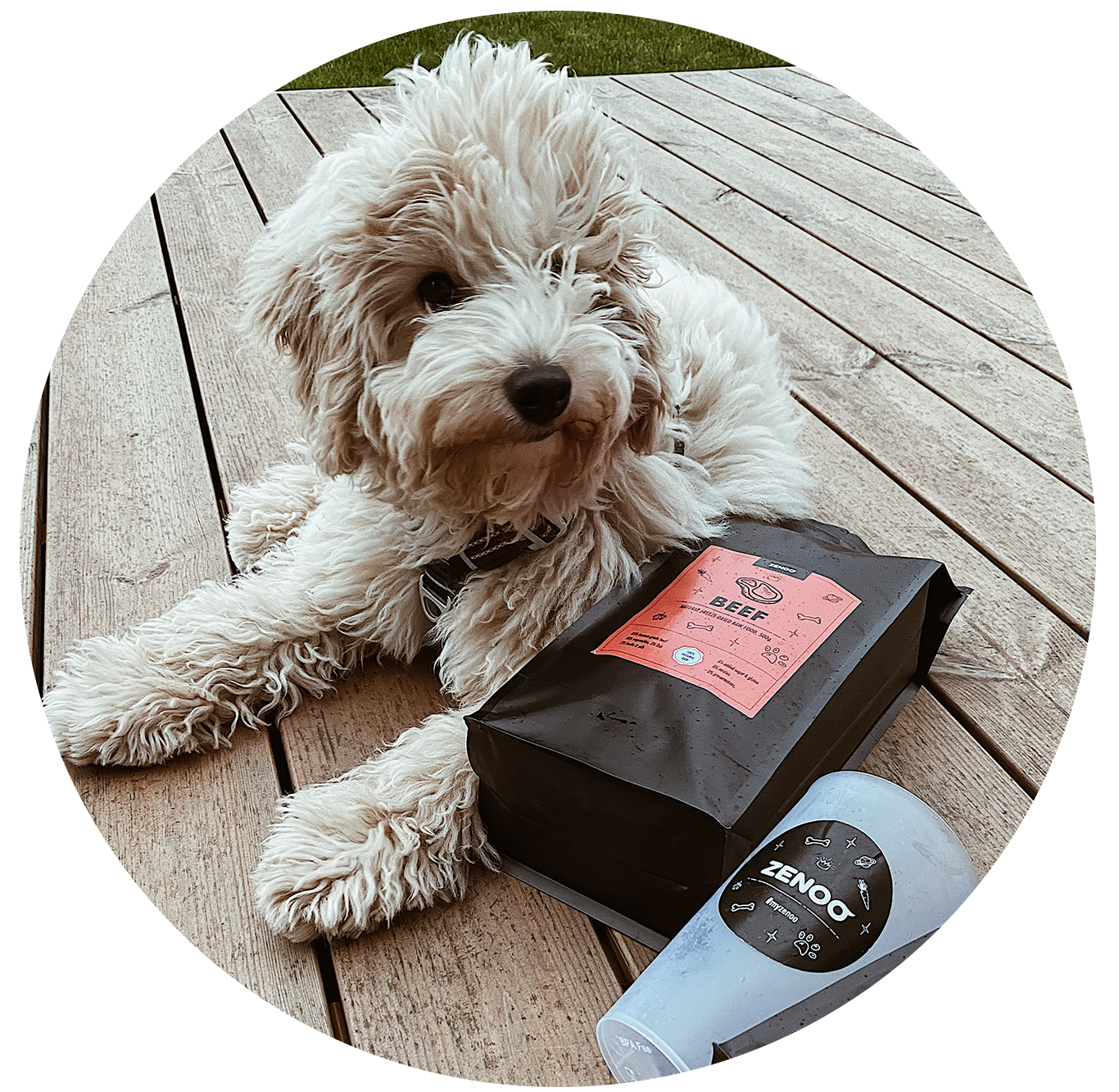 1 kg of food packed in an easy-to-store bag. It's tightly sealed, so the food stays fresh for 2 months after opening.

Easy-to-follow instructions for effortless transition and overall well-being based on your dog's profile.

A cup is the only tool you'll need to prepare the food. Marked measurements will ensure the right portion size with no hassle.

We are working around the clock, so your dog gets the care and attention whenever he needs it.
WHAT OUR PACK MEMBERS ARE BARKING ABOUT!

POOP PROBLEMS SOLVED
"I am happy to report consistent and firm poops from this guy these past few months. 💩 Finally found a good diet that he loves and that his tummy also loves! 💪" -
Edin Rigby's owner,
Poodle, 2 y/o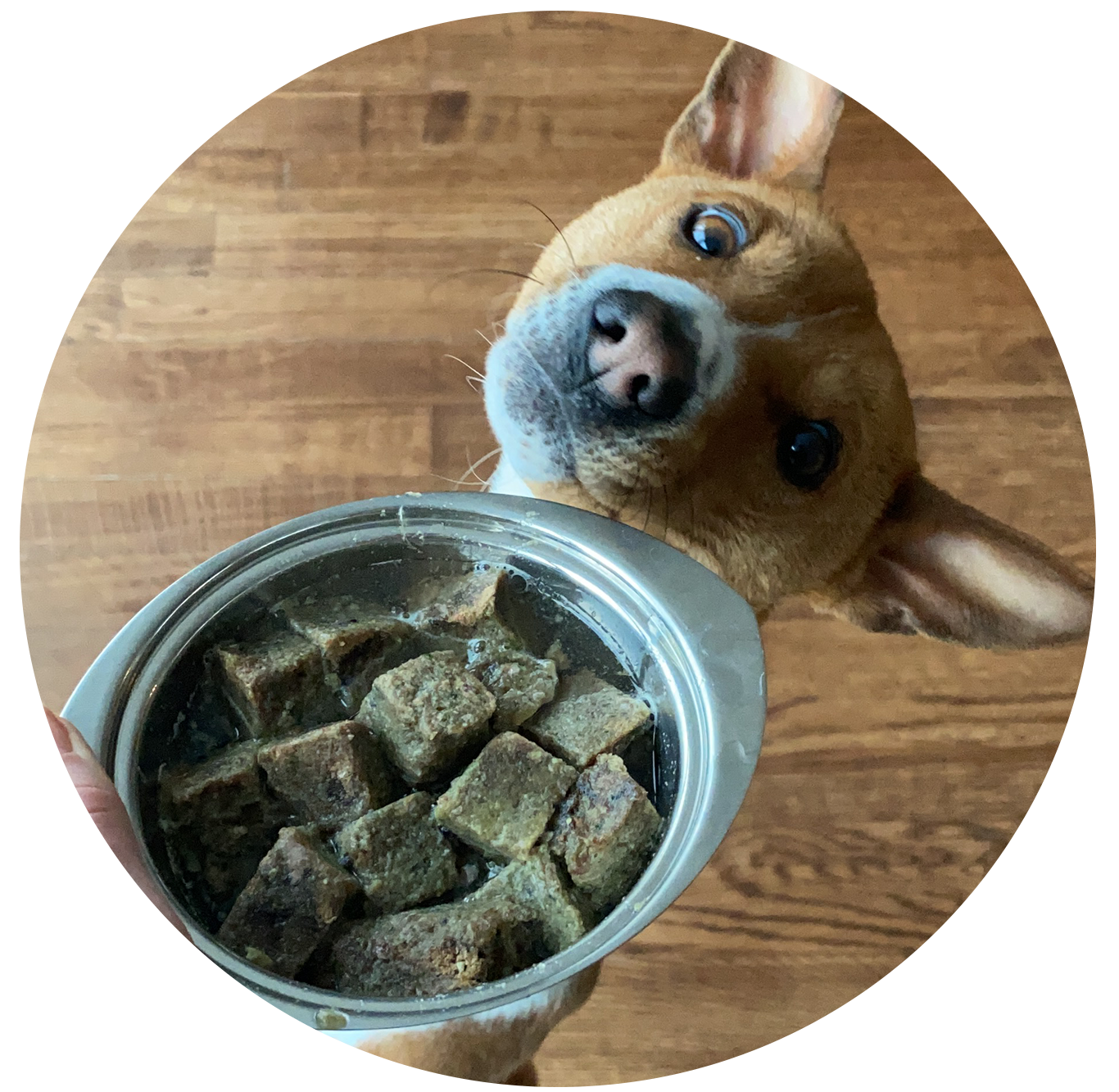 PICKY EATING DAYS FORGOTTEN
"Tori used to be a very picky eater and had a sensitive stomach - ZENOO fixed this💯. Thanks!" -
Mindy, Tori's owner,
Basenji, 4 y/o
ALLERGIES CURED
"Although we've been eating ZENOO for only three months, all allergies sorted out - the paws no longer sting🐾, the beard no longer itches."
- Agne, Mona's owner,
Scottish Terrier, 7 y/o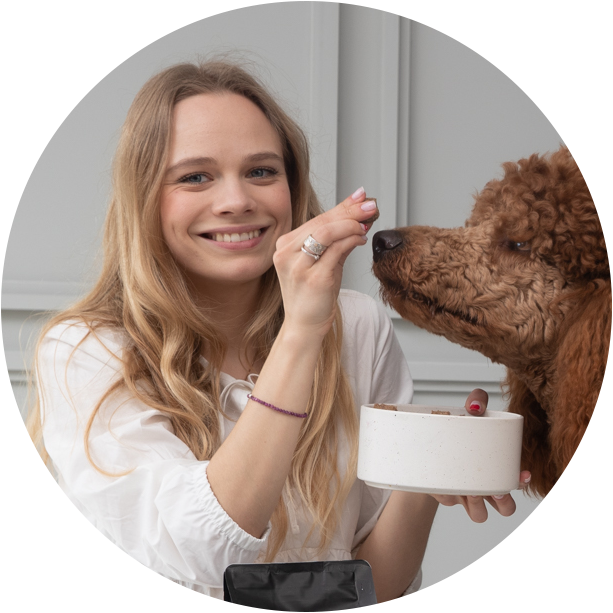 "We want dogs to live their best lives. And to achieve that, we are challenging the harmful and outdated nutrition norms. So join us by choosing what's best for your dog."

ZENOO food is freeze-dried. Yes, we use the same high-end technology for our food as NASA. Freeze drying, is a low temperature dehydration process that involves freezing the product, lowering pressure, then removing the ice by sublimation. This allows the raw food to become convenient without losing nutritional value.
Where are the ingredients sourced from?
We source our antibiotic-free beef from high-quality, human-grade farms in the EU. Our vegetables, seeds and oils are carefully sourced and there's absolutely no nasties (fillers, artificial flavoring, preservatives) in our food.
What's better - frozen or freeze-dried food?
Both choices are worth celebrating - your feeding your dog healthy! However, freeze-dried dog food is much more convenient: no need to defrost, doesn't take up freezer space, can be transported easily, no risk of harmful bacteria such as salmonella, e. coli, tapeworm, listeria and campylobacter.

How long does the order take to deliver?
Delivery time ultimately depends on your country. Usually, it takes 2-4 business days after the payment.
How do I know how much to feed my dog?
Every delivery comes with feeding instructions.
How long will the food stay good after it's delivered?
A closed package can be good for a year and an opened package - 2 months. Just store it in a cool, dry place and keep it away from direct sunlight.